How do you select the right furnace for your home? There are several important considerations involved.
You can't escape it: Wisconsin winters take a huge toll on your heating system as well as spiking your energy costs. Operating an old, worn out, inefficient furnace results in significantly higher heating costs, wasted fuel, and a higher rate of furnace pollution.
There are several factors to consider in selecting a new furnace.
Start with the Condition of Your Home
Where are the areas where there's possible heat loss? Drafts? Has a remodeling project altered the overall square footage, placing extra demand on heating equipment? Likewise, an over-sized furnace costs substantially more to operate because it typically cycles on and off more, putting more wear on its components and increasing operating costs.
The only way to know the correct size of a new furnace is to have a heating contractor perform a load calculation. A load calculation is based upon the size of your house, the insulation value of your windows, the amount of insulation in your walls and roof, and a host of other factors calculated to determine the needed furnace capacity.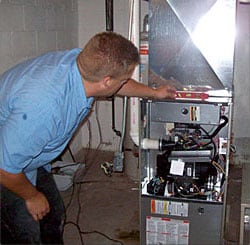 Find a Professional Heating Contractor
It's important to select a reputable contractor to replace your furnace. The overall comfort of your home—as well as reducing utility bills—depends on it. Don't just open the Yellow Pages or online listings to make a selection. Use local resources like the Better Business Bureau or chamber of commerce, then ask for references and follow up.
Consider a High-Efficiency Furnace
Older furnaces had fuel conversion efficiencies in the range of 56 to 70 percent. Modern heating systems can achieve efficiencies as high as 97 percent. A new, high-efficiency heating system with multi-stage firing and an electronically commutated motor (ECM) can often cut your fuel bills and furnace pollution in half. Keep in mind that high-efficiency furnaces typically cost more up front than the average furnace, However, they cost less to operate on a monthly basis to produce the same amount of heat, so after a given payoff period they will actually cost less. Keep in mind that they may not be the best choice if you plan on moving to another house during the payoff period. The payoff period for some models is quite long, so decide whether you will stay in your home long enough to make the purchase a wise choice.
Investigate Rebate Programs and Cash Rewards
Eligibility for a high-efficiency furnace depends upon your local electric and gas utility. Some manufacturers also offer discounts and seasonal rebates. Focus on Energy also offers Efficient Heating & Cooling Program rewards. Visit www.focusonenergy.com to learn more.
Check out the Efficiency Ratings for the Proposed New Furnace
There are two types of ratings that homeowners should consider when in the market for a new furnace:
Efficiency ratings.
There are three types of furnace efficiency ratings: 1) Annual Fuel Utilization Efficiency (AFUE), a number representing the percentage of energy that is converted to warm air; 2) Energy Guide (recognizable black-and-yellow label) that reports how energy-efficient the appliance is and how that will impact your utility bill; and 3) Energy Star, a designation that goes to the most energy-efficient appliances in each class. The Energy Star logo assures that the appliance meets or exceeds federal energy-use standards. Visit www.energystar.gov to locate Energy Star products.
Consumer or Customer Satisfaction Ratings
There are a number of resources offering reviews on various brands of furnaces. You can visit Consumer Reports online or Angie's List for local ratings and reviews.
Ensure Proper Installation
Your new furnace must be properly installed to ensure maximum safety and efficiency. Airflow should be adjusted to match the ductwork and furnace characteristics. You will pay more in energy costs and live in a less comfortable home if setup is not handled correctly. Tip: An energy-efficient furnace and its variable-speed fan motor can also reduce electrical usage.
Close the Chimney Flue
If you install a high-efficiency furnace or boiler and there is no other equipment vented through your chimney, make sure the interior flue is sealed to reduce heat loss through the opening in the roof.
The Bottom Line
According to Consumer Reports, contractors cite the most common reasons for service calls are inadequate maintenance or improper installation. If you work with a contractor to select the right furnace for your home and have it installed properly, then your need for service calls—as well as your heating costs—will decrease significantly.