One of the most common questions we get this time of year (and in general) is, "How much does a new air conditioner cost?"
Like many bigger-ticket items, the unpopular, but most accurate answer is, "It depends." That is because there are many factors that determine the final cost as we'll explain below.
If you're desperate for a ballpark answer, a new central air installation will start around $3,500 (plus permits) and up, depending on the home and specifications.
What Goes Into the Cost?
There several things to take into consideration when determining the cost of an air conditioner that can be broken up into three main factors:
1.The System
The brand, size, energy source, and efficiency of the unit you choose will be the majority of the total cost.
The brand, size, energy source, and efficiency of the unit you choose will be the majority of the total cost.
You might recognize the term SEER. It stands for Seasonal Energy Efficiency Ratio and it is a measure of how efficiently your air conditioner uses electricity to provide cooling in your home. 
When choosing a unit, you'll have to decide which option works best for your home comfort needs. For example, units with a higher SEER will likely cost more initially but will save you money on your utility bills in the long run.
West Allis Heating has many options on units from top-quality brands; Daikin, Lennox, and Carrier for you to choose from. As always, estimates are completely free.
2. Labor
The time and effort needed to install a new unit (and potentially remove an old one) is the next biggest factor in the total cost of a new furnace.
If you're looking to relocate or switch the energy source of your existing unit, it will require more time and resources. You may also need to have new ductwork made to fit your home or longer line sets made to reach the outdoor condenser. All of the above will lead to a higher labor cost.
The great thing about West Allis Heating is that we charge by the job, not by the hour. That means you'll pay what we quote you no matter where you live or how long it takes.
3. Materials & Miscellaneous Factors
The final factor in determining the total cost of a new air conditioner includes the materials and smaller aspects needed to complete the job.
This could include things such as electrical/masonry work, extending or moving gas lines, or permit and inspection fees. Each home and job is completely different.
When you choose West Allis Heating for new equipment, we'll take the burden off of you by applying for the necessary permits.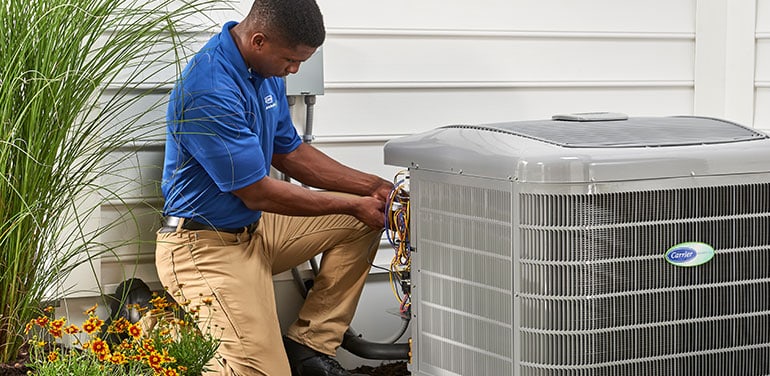 Final Thoughts
As you can see, there are numerous factors that go into the cost of a new air conditioner installation and the answer truly depends on the size of the job and the individual needs of the customer.
The Comfort Advisors at West Allis Heating will be happy to come to your home, evaluate all of your options and provide you with a price that will work with your budget and for your home comfort needs.
They will also go over the various rebates, warranties, and financing options you can get to help make it more cost-effective. You can find our current promotions here.
Contact us today to set up your appointment before the dog days of summer.