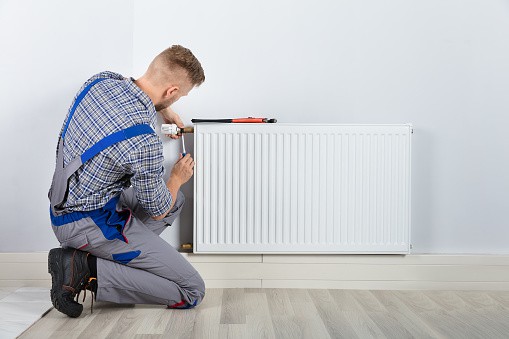 Home Heating Repair Services in Milwaukee, WI
The Best Heating Repair Services Near You
Our team at West Allis Heating & AC in Milwaukee, WI is a family-owned and operated company that was founded in 1959. We have followed our passion about keeping our community comfortable in their homes. By focusing on our community and clients, we are able to give our all. We will ensure that you are satisfied with our services. With our expert HVAC technicians, continued training, innovative tools and effective heating repair methods, you will be in the best hands possible to keep you comfortable. Contact our team today to schedule services.
24/7 Emergency and Same Day Heating Repair Services
You never want to be caught without heating in your home, which is why we provide our services to our customers at any time. Whenever you need us most, we will be there, just give us a call.
Signs Your Heater Needs to Be Repaired
There are specific signs that you may notice when your heater needs to be repaired, so call an HVAC professional immediately. If damage is left unaddressed, it often causes further and more expensive damage. Look out for:
Heating System Produces Odd Smells – Heaters often produce a scent if they haven't been used for a while. This is natural as dust and dirt burns off. There are other odd smells that are a sign of damage or non-functional parts. If there are smells that persist or intensify as you continue to use your heating system, call us right away. Odd smells could be a sign that there is something else burning or there's a gas leak.
Unexplainable Energy Bill Cost Increase – If your energy bill suddenly increases with no explanation or reasonable cause, this could be a sign that your heater isn't functioning correctly
Cold or Lukewarm Air – If your heater isn't quickly heating your home, or isn't producing warm or hot air, this could be a sign that there are issues with ductwork.
Constant Thermostat Adjustments – If you are continually having to adjust the thermostat "just so", there is most likely an issue that needs to be repaired.
Heater Struggles to Start – Heaters should kick on immediately. If it doesn't, it could be due to a faulty or dirty pilot, an issue with the gas line, a damaged thermostat, or several other things.
Discolored Pilot Light – Pilot lights should be blue. If the pilot light is discolored, it could mean that there is a gas imbalance. If it is yellow that means that there could be excess carbon monoxide or a ventilation issue. Call for help immediately. Our emergency services will help you.
Strange and Persistent Noises – Atypical noises can be a result of loose parts or severe damage. Different noises could be the sign of:
Squealing: belt or fan issues
Banging Around: loose parts
Scraping: warped fan blades or broken motors
Whistling: refrigerant leaks
Hissing: broken filters, leaky ductwork, or obstructed vents
Popping: air pressure in sheet metal air ducts
Thumping: a de-centered blower wheel
Rattling: loose-fitting fasteners
What Causes Your Heater to Stop Working Properly?
There are many issues that can cause your heater to stop functioning. Some of the most common issues include:
A dirty blower can lead to overheating and failure.
Dirty filters can restrict airflow which causes short cycling.
Dirty burners can have issues lighting.
A dirty flame sensor can cause your heater to fail to sese the flame.
Electrical issues can cause breakdowns.
How Much Does a Heating Repair Cost?
AC and heating repair service costs can vary widely depending on the following factors:
Equipment, tools, and parts required to complete the job.
The amount of time the repair takes.
The size, condition and age of your system.
The difficulty of accessing your air ducts.
Any costs that are discounted or covered by insurance.
Any costs that are discounted or covered by warranties.
Should I Repair or Replace My Heater?
When you hire West Allis Heating & AC services, you will have the peace of mind that comes from knowing that professionals are there to not only provide you with reliable services, by trustworthy advice as well. Buying a new heater at the right point in time is one of the best investment and money-saving decisions you can make. An old rule that we like to follow is that if a repair on your heating system costs more than 50% of a new heating system, it's time to upgrade. It also might be time to replace your heater when:
Your boiler, gas heater or furnace is 15+ years old.
Your heat pump is 10+ years old.
Your unit is inadequately or unevenly heating your property.
Your system is outdated.
Your system is incurring high energy bills.
Your heater needs frequent or severe repairs.
Your system is exacerbating humidity.
Your system is resulting in poor air quality in your property.
Steps to Troubleshoot Common Heating Problems Before Calling for Repair
Clean or replace the air filters.
Check the batteries and connectivity of your thermostat.
Inspect the condenser for debris.
Check the pilot light and burners.
Check all vents and registers.
Check for blown fuses.
Check for tripped breakers.
Fasten the access panel.
Contact our team if further assistance is required.
Other Heating Services
West Allis Heating & AC provides comprehensive heating services including:
Contact our team to learn more about our expansive and inclusive heating services today.
Why Choose West Allis Heating & AC?
No other heating and AC company in Milwaukee, WI has services quite like ours. Contact our team for incredible local heating and air repair services in Milwaukee, WI. We can't wait for you to join the West Allis Heating & AC family as we provide you with peace of mind and comfort in your home. We will take care of your heating needs quickly and are thorough in our repairs. We are the choice for you if you want quality repairs that will last. Enjoy the following benefits when you hire us:
We offer emergency services as well as same-day repair services.
Our experts are highly trained and reliable.
We guarantee customer satisfaction and quality workmanship.
West Allis Heating & Air Conditioning offers a range of products to suit your unique heating and cooling needs. If you are interested in better comfort at a great price, speak with one our NATE-certified staff members today at (414) 249-6235.