Heating & Cooling Services
Heating and cooling services are the heart of what we do, and we are not afraid to get our hands dirty. We service all makes and models of furnaces (including oil), boilers (including oil), central air conditioning units, garage heaters, commercial rooftop units, electric heat, and more. You have peace of mind knowing we're available 24/7/365 to keep you comfortable.
Free Estimates
When it's time to replace or install a new home comfort system, West Allis Heating & Air Conditioning is your #1 choice. With their no-pressure approach, one of our experienced Comfort Advisors will come directly to your home and work with you to find the system that best fits your needs and your budget – completely FREE.
Maintenance Programs
Thousands of customers rely on our Comfort Maintenance Agreement (CMA) to ensure their heating & cooling systems are tuned, cleaned, and running efficiently year-round. Regular maintenance will help prolong the lifespan of your systems and save you money on energy bills and repair costs. CMA customers also receive special discounts and priority service.
Over Six Decades of Superior Service
West Allis Heating & Air Conditioning—Offering Uncommon HVAC Services and Old-Fashioned Values
Since 1959, West Allis Heating & Air Conditioning has combined old-fashioned values with the highest quality service, products, sales, and support—all at competitive prices.
We offer services that many HVAC contractors no longer do as they require extensive experience and training. For example, we create custom ductwork at our in-house metal shop which ensures proper unit sizing for consistent air flow. Our ductwork not only operates efficiently, it looks great so it doesn't need to be covered or hidden.
Our highly-skilled technicians install and provide maintenance for oil furnaces and boilers—a rare commodity these days. We can also provide oil to gas furnace conversions, which typically offer greater efficiency and less hassle.
West Allis Heating also repairs sleeve and window air conditioning units—no one does that anymore. We also sell new window units through our WAH Comfort Store.
Our Unique WAH Comfort Store
Since HVAC technology evolves so rapidly, we opened our WAH Comfort Store. This attractive showroom displays a range of heating and cooling systems including ductless split systems, zone systems, decorative space heaters, wood stoves, and specialty heaters. We also offer a variety of indoor air quality products such as purifiers, ventilators, and humidifiers/dehumidifiers.
Not sure what you need? One of our Comfort Advisors will be more than happy to help make the best selection to meet your style, needs, and budget. Come visit us weekdays from 7 am – 6 pm and Saturdays from 7:30 am – 4 pm.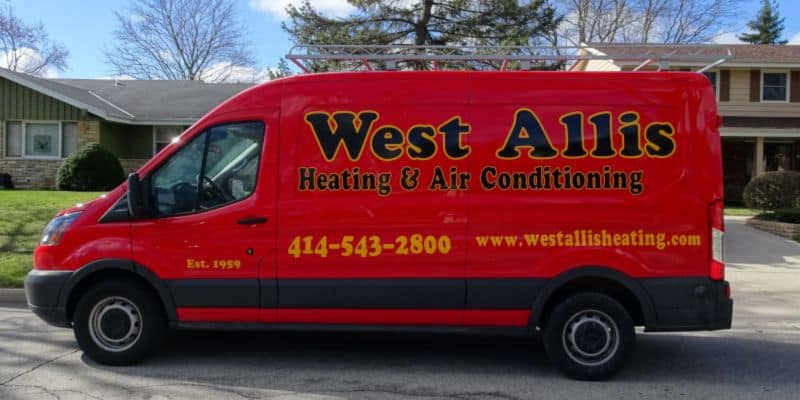 Request Service Today
Fill out the form below and a member our team will contact you as soon as possible. If you would like to call us, 414-543-2800 is the number. We look forward to working with you.
Latest News From Our Blog