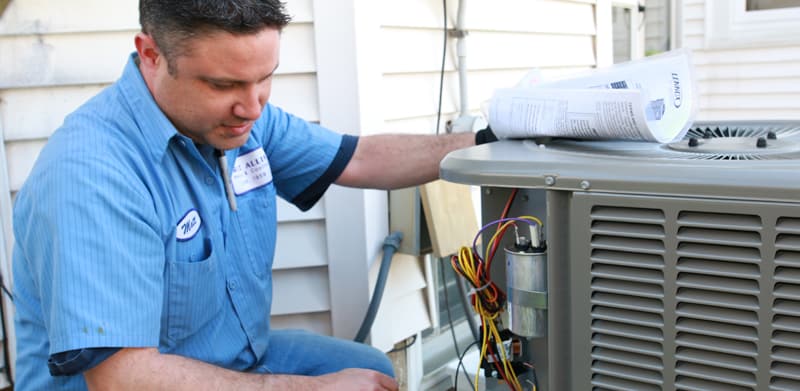 The Experienced Technicians at West Allis Heating Have Seen It All When It Comes to A/C Repair
The highly experienced A/C repair technicians at West Allis Heating & Air Conditioning have seen almost everything—animals creating havoc by chewing through wires, debris in the equipment, refrigerant leaks, frozen coils—and so much more. Our team responds quickly to your problem and makes sure your central air conditioning system is diagnosed, repaired, and running efficiently without hassle.
Our NATE-certified technicians start by troubleshooting the problem with your cooling system. We then provide you with the details and wait for your approval before starting any repairs. Our repair service is affordable and done to your satisfaction, and we're sure you'll become a loyal customer after your first service call. In fact, you may want to consider our annual Comfort Maintenance Agreement, where our professionals maintain your cooling and heating systems for greater efficiency and to help prevent costly repairs.
With hundreds of thousands of repair and service calls over the years, we are able to service all makes and models, and are confident that we will be able to solve your air conditioning and heating problems.
Repair or Replace—That Is the Question
Replacing a central air system is always a big decision. The experts at West Allis Heating can help make this decision a little easier. We are a family-owned business that still values honesty and integrity. When our pros come out to evaluate your unit, we will let you know whether it can be repaired or if it makes more sense to replace it. We walk you through all the options including heat pumps and ductless split systems, as they can be great choices depending on your lifestyle and budget. And, should you decide to purchase and install a new A/C system, our techs will handle everything from sizing to final cleanup of your home. More good news? You may find your utility bills are lower, due to the energy efficiency of your new system.
Window A/C Unit Repair
Most companies will not even consider repairing window air conditioning units—they will tell you to simply purchase a new product. At West Allis Heating, you can drop off your unit and we will evaluate the issue and repair it when it makes sense. Should we determine you need a new unit, we have most options readily available and you can leave knowing you made the right decision.
A/C Filters and More at the WAH Comfort Store
Our WAH Comfort Store stocks a variety of HVAC parts so DIYers can perform routine maintenance or make small repairs to their A/C units. We sell window A/C units should your unit be beyond repair or you simply want another unit to help cool your home or business.
We also provide expert advice so a proficient DIYer can handle almost any minor repair job.
West Allis Heating—Your 24/7 Support Team
If it's 90 degrees outside and your air has stopped working, call (414) 249-6235 any time, day or night, for prompt, professional service.
Air Conditioner Repair FAQ