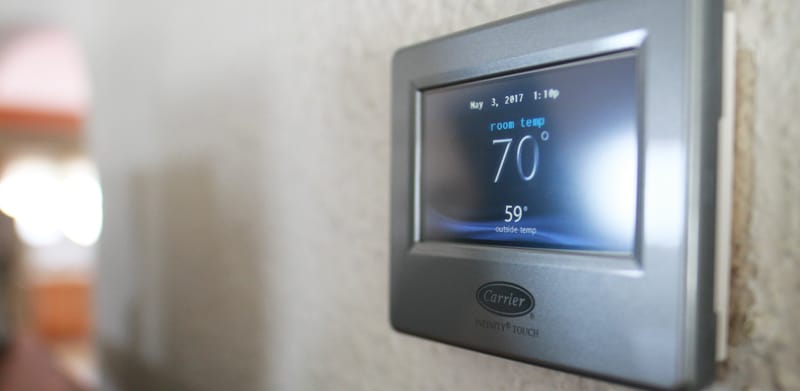 Wi-Fi Thermostats & Controls
Program Your Home or Business to the Exact Temperature You Want and Save Money
Thermostats provide comfortable temperatures, high operating efficiency, and energy savings—what's not to like?
Programmable thermostats regulate your heating and cooling so every room always has the perfect temperature. They allow you to select temperatures at different times of the day and on different days of the week. This means you can save money and energy by not heating or cooling your home or business unnecessarily.
Controls Offer More Advanced Technology
Would you like whole-home comfort via a click or tap on your smartphone or tablet? Since so many people rely on these devices, it just makes sense to use them to help with temperature control and potential energy savings. Our advanced controls can deliver that and more. Many models allow you to adjust the temperature while you are sitting in traffic, so when you arrive home, it is always the right temperature. Some models provide you with current energy savings numbers, so you can keep an eye on your heating or cooling bill, which can help reduce costs.
West Allis Heating & Air Conditioning offers a range of products to suit your unique heating and cooling needs. If you are interested in better comfort at a great price, speak with one our NATE-certified staff members today at (414) 543-2800.