The Best Local Heating and Air Maintenance Services
West Allis Heating & AC in Milwaukee, WI has been providing Milwaukee, WI, and the surrounding cities with the best heating and air maintenance services since 1959. Our family-owned business has a reputation for providing the best to our community. With expert HVAC technicians, innovative tools, and the most efficient methods, we can't be beat. This is proven through the many awards that we've received over our years at work. How have we become the best? By prioritizing the best and most important aspect of our company: customers just like you. Join the West Allis family today and contact us today for our services.
Heater Repair, Replacement and Maintenance
Our team at West Allis Heating & AC understands how crucial it is to have an efficient and functioning heating system in your Milwaukee, WI home, especially during the colder months. Your heater shouldn't be something that you worry about. It should work reliably and efficiently to keep you comfortable and to keep your bills reasonable. Our local team provides comprehensive heater services. We can help find the source of the issue, repair an issue, maintain your heater, and replace your heater when necessary. For complete services, there's no better team to trust.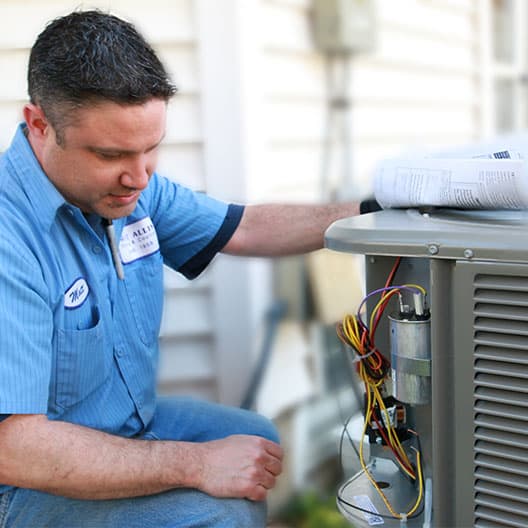 Heating Services from West Allis Heating & AC
No matter what your heating system looks like, whether you have a boiler, geothermal heater, or a heat pump, our experts will know exactly how to examine the system for issues and then quickly resolve those issues. Our award-winning HVAC technicians are licensed and go through continuous training to ensure that they have the latest information and methods in their skill arsenal. We provide the following heating services for your convenience:
Contact our team to learn more about how we can help you.
Heater Repair and Installation Trusted Nationwide
Our West Allis Heating & AC team follows a specific process and regulations every time we provide our services to ensure quality services and long-lasting repairs. The first step in this process is to assess your system for major problems or causes of the issues you're experiencing. During this process we will present you with a more defined and accurate cost estimate and determine what service will be needed.
We first try to see if a repair will be the best course of action. If the problem is more serious, or the system is old and nearing retirement, our team may consider recommending that you look into getting a new or upgraded heating system. Whatever heating service you need, you can trust that we will be there with just the tools and experience you're in need of.
Our Maintenance Program Designed for You
At West Allis Heating & AC, we want to ensure that your heating system functions now as well as lasts a long time. Our incredible heating and cooling maintenance program, West Allis Heating Comfort Maintenance Agreement (CMA) can provide you with peace of mind and comfort all year round. If you're in need of a reliable team that you can call anytime, we may be just the place for you.
With perks such as priority services, annual cleaning services, preferred pricing, incredible discounts, and extended equipment life, you'll be completely set to feel comfortable and in-control in your home. Join our program now to experience these incredible benefits and receive complete heating system maintenance services for a fraction of the price.
Call Our Heating Service Pros Right Now at West Allis Heating & AC
Call our team for incredible professional heating services or for information about our maintenance program. We can't wait for you to join the West Allis Heating & AC family in Milwaukee, WI. We will take care of your heating needs quickly and efficiently.
Please fill out the form below or call us at 414-249-6235.