In this month's blog, we're going to highlight one of the products we love: the Daikin One + smart thermostat because we're confident you'll love it just as much as we do.
Just about everything else in our daily lives is now "smart" and your thermostat should be no exception. There are many benefits of having a product like the Daikin One in your home that will keep you comfortable, healthy, and save you money.
FEATURES
"Comfort Zone" Setting – The Daikin One + allows you to set a temperature range that falls within your desired comfort zone. It will automatically switch between heating and cooling to ensure you're always comfortable. This is a great way to keep your energy usage consistent as well.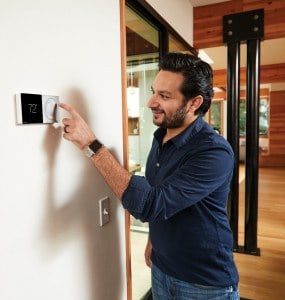 Touch Screen Options – The sleek design of the thermostat comes with five different touch screen options to optimize your comfort and energy usage:
See indoor temperature and switch modes
Shift temperature range and adjust set-points
Run the thermostat on a weekly schedule
Activate "away" mode to conserve energy
Monitor air quality and change settings
It also has its very own app that allows you to take control from your smartphone!
Daily Scheduling – This feature allows you to create a custom weekly schedule that determines the temperature in your home. If you're not going to be home for a prolonged period of time, you can set the temperature warmer in the summer or cooler in the winter to save energy (and money). If you're a warm sleeper, you can enjoy nice and cool temperatures overnight to ensure a great night of rest – who doesn't want that?!
Monitor Indoor Air Quality – Indoor air quality is often overlooked by homeowners, even though it provides a lot of health benefits. The Daikin One will help make sure you're breathing clean, healthy air.
For more information about indoor air quality (IAQ), check out our frequently asked questions.
These are just a few of the highlights of what the Daikin One has to offer. For more information, system compatibility, or a free estimate, contact the experts at West Allis Heating & Air Conditioning today!