From the earliest days of civilization, humans have utilized home comfort options offered by West Allis Heating (well, since 1959 anyway). Our simplest source of heat, the sun, started out as our only source of heat. As you can imagine, business was very slow back then. People soon realized we could make fire with wood – and by containing and controlling it, we could use that for heating. Genius!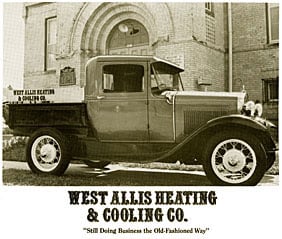 By the 16th century alternative fuel options, such as coal, were being introduced. Messy and inefficient, coal continued to be the dominant fuel source for various home heating methods through the 1930's. Although some may have enjoyed it, there is rarely an opportunity to stoke the coal fire anymore. Now gas and oil fired furnaces and boilers have taken over and made it easier than ever to heat your home.
The idea of home cooling developed a bit later as people were generally not as warm in the old days (guessing by the attire). In 1886 the electric fan was introduced and this was the primary form of cooling in most homes for decades. This worked well for air exchange and movement, but did nothing to combat humidity.
At last, in 1902, the first air conditioner was built to combat humidity problems at a printing facility. This new air conditioning technology was so extremely expensive that only the luxuriously wealthy, theaters and government offices were installing air conditioners at first.
By the 1950's residential thru-window and central air conditioning systems were being introduced to the masses. Central air conditioning allowed for the development and growth of such great cities in extremely hot climates as Houston, Phoenix, Las Vegas, Atlanta and Miami.
We have come so far in home comfort! Heating and central air conditioning systems have truly changed the way we live. We can now be comfortable 24/7 in our homes, at a shopping mall, or in a casino resort regardless of the outdoor conditions. Research and development teams all over the world continue to use innovative technologies in heating and cooling to benefit each homeowner while striving to reduce energy usage.
Some of the exciting innovations we as an industry are working on:
Don't like all the energy used by central air conditioning? A new low-energy form of cooling is in the works, which cools the person rather than the space. It is motion activated and mists a person with a cool spray when they walk by.
How about that guest bedroom or den you only use once in a blue moon? Developers are working on sensors that monitor indoor comfort components such as temperature and air pressure for each room individually. Using an app you will be able to easily customize the comfort in each room of your house without installing a zoning system.
Computers are still a wave of the future? Indeed they are for home comfort applications. Researchers are working on a way to "capture" the heat emitted from electronic devices and use it to heat our homes. This would help us all to reduce, reuse and recycle!
What's available now? Thermostats have come a long way from the round mercury-filled approximaters we used to install. Smart thermostats have gone far beyond programming temperature and now offer ways to control your heating, cooling, indoor air quality and humidification systems on your tablet or smartphone from wherever you are. Asthma and allergy sufferers should know that indoor air quality and humidification products have also come a long way. Whole home humidification as well as hospital grade air cleaners and purifiers are now available for residential applications.
The Heating, Ventilation and Air Conditioning (HVAC) industry is constantly changing and evolving. We are truly excited about the amazing technologies West Allis Heating & Air Conditioning can offer you now and we look forward to bringing you more in the future.