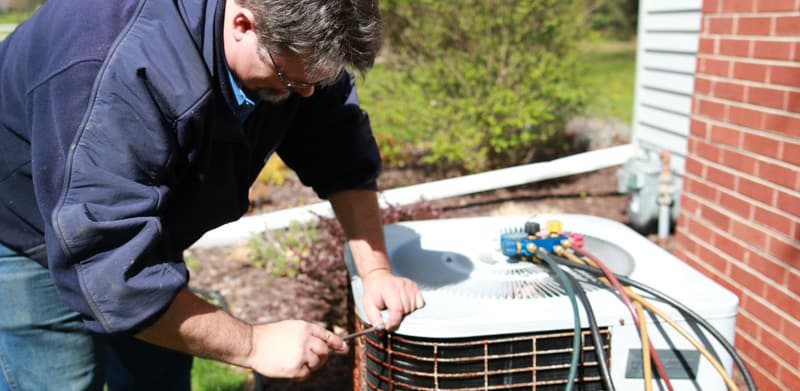 Air Conditioner Maintenance
Don't Wait on A/C Maintenance…Take Care of It Early
When is the last time you thought about your central air conditioning system, heat pump, ductless split system, or window A/C unit? Most homeowners don't think about them at all—until the temperature reaches about 80 degrees and the unit doesn't operate or only blows warm air. Now the line for repairs and maintenance will be longer. The professional staff at West Allis Heating & Air Conditioning does our best to get to each and every customer ASAP—even on Saturdays—because we don't want you to wait.
Save Money With Our Comfort Maintenance Agreement
Contact West Allis Heating early in the season to schedule a proper air conditioner cleaning and inspection. You may also want to consider signing up for our Comfort Maintenance Agreement. With our CMA, you receive priority service during an emergency and also earn a discount on parts and labor, a discount on heating and cooling system air filters, and no trip charges for the two annual visits.
It is a well-known industry fact that regular maintenance extends the life of your air conditioner and helps it run as efficiently as possible. A properly maintained unit will cost you less in the long run and can help extend its life. Obviously, we can't guarantee you won't have a problem, but we do know that annual maintenance works to help prevent big repair bills. We service all makes and models of central air conditioners, heat pumps, and ductless split system.
During the inspections, our NATE-certified technicians thoroughly clean the units, replace air filters, lubricate parts as required, check for leaks, perform efficiency tests, and make recommendations.
Part of our A/C maintenance includes an acid wash that deep cleans your unit. It works better than water alone (which most HVAC companies use) because the diluted acid foams up and pushes dirt out from every nook and cranny it seeps into. Next, we thoroughly rinse your unit with water and reach inside to remove any debris, including leaves and nests. Our team always goes the extra step to ensure every aspect of your A/C is clean.


Our Technicians Know the Latest Technologies—You Can Learn a Lot From the West Allis Heating Experts
Another benefit of annual air conditioner maintenance is that our highly qualified service technicians can provide information about your unit and answer questions you may have, including when you should plan on replacing your system.
There have been many innovations in air conditioning systems with products, such as heat pumps and ductless split systems, which can reduce costs while providing the comfort you seek. And should you choose one of these new systems, you know our staff will be there for maintenance and repairs, if needed.
A/C Window Units
It's Wisconsin and a lot of folks don't turn on the air until the temperatures are scorching. And even then, some homeowners may only have one or two window units in the bedroom or main living area. Most HVAC companies won't even think about servicing a window unit. They will simply tell you to purchase a new one. At West Allis Heating, you can drop off your unit and we'll call you when we have completed the needed maintenance or repairs.
Service That Works With Your Busy Schedule
We know life is hectic and want to help simplify your service. This is why West Allis Heating offers flexible maintenance scheduling. Call and make an appointment for a "tune up" at (414) 543-2800. We can also provide more information about our Comfort Maintenance Agreements.
Don't wait until you have an expensive breakdown to think about your home comfort. Become a CMA customer today!
Air Conditioner Maintenance FAQ
Brands of Cooling Equipment We Service
Daikin

Carrier

Lennox

Williamson

Rheem
Bryant

Goodman

Trane

American Standard

Frigidaire
Amana

Coleman

Heil

Ruud

And many more!