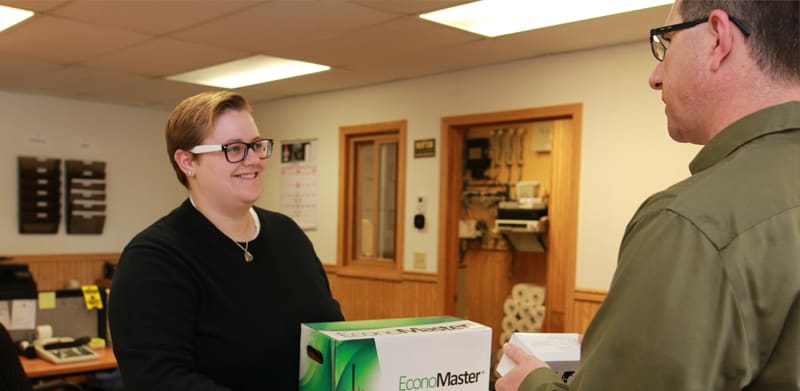 Comfort Is Essential—and A Top Seller in Our Store
The heating and cooling industry has undergone a revolution. There are so many unique products available—heat pumps, ductless split systems, whole-home humidifiers, gas and electric stoves, decorative space heaters, boilers with radiant heat systems—where do you begin?
Start here, at the West Allis Heating & Air Conditioning Comfort Store. You can view the extraordinary variety of products we offer to determine the look and style you want for your home. Our experts can also explain the features and benefits of each product to help you make the best selection for your lifestyle and budget. The best part—we're not sales people—we're helpful Customer Service Reps (CSRs) and Comfort Advisors who provide heating and cooling and indoor air quality solutions every day.
Our friendly and knowledgeable staff loves to help our community members make the best choices to meet their unique needs. We invite you to stop in to talk shop or meet one-on-one with our experts who can offer helpful guidance.
DIYers—Have a Question or Need HVAC Parts?
Many of our customers are DIYers who only need parts to get units up and running. We offer parts for furnaces, heat pumps, air conditioners, humidifiers, UV lights, and thermostats as well as a full line of filters and humidifier pads. We also offer window A/C units over the counter to keep even the stuffiest of rooms comfortable.
Should you need a bit more assistance, our staff will provide advice over the phone so you can do basic maintenance or repairs yourself. Rely on us—your HVAC experts in Southeast Wisconsin.
Drop By and See Us Six Days a Week for Parts and Products
You can stop into our WAH Comfort Store from 7 a.m. to 6 p.m. weekdays and 7:30 a.m. to 4 p.m. on Saturdays—weekend hours may be extended depending on the weather.
Visit our store to pick up parts for many makes and models of heating and cooling equipment, including:
Air Filters
UV Lights
Sleeve Units
Humidifier Pads & Parts
Electronic Air Cleaner Parts
HVAC Parts