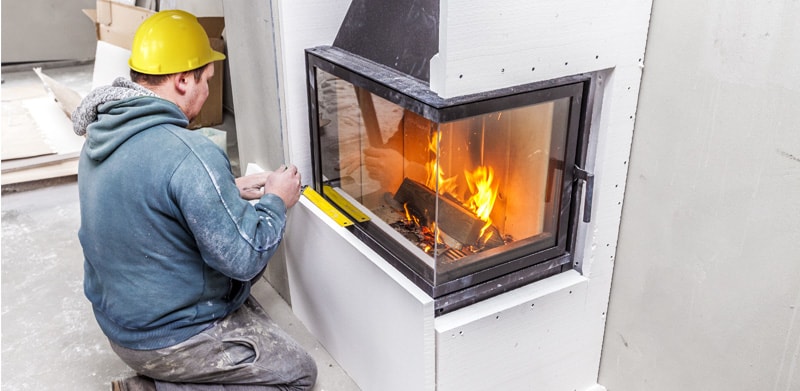 Looking for Options to Reduce Heating Bills—Consider a Specialty Heater
Specialty heating units such as garage heaters, ductless split systems, fireplaces, and gas stoves can be used to augment traditional forced-air heating units. They can help maintain a consistent level of comfort in rooms that are always a bit on the chilly side, as well as keep DIYers working in a shed or garage toasty warm.
Since technology is changing so rapidly, West Allis Heating & Air Conditioning offers a wide variety of heating options—that we both install and service—that could help save you money on your heating bills.
Another key benefit of an attractive fireplace or gas stove is that it can increase the value of your home—which is ideal should you choose to downsize or move.
Fireplaces—Who Doesn't Want One?
Fireplaces are cozy, inviting, and can add a beautiful design feature to any room in your home. They may also reduce overall heating costs, which is good for your budget.
At West Allis Heating, we work with some of the best fireplace manufacturers in the business to ensure both comfort and reliability. We install in-wall applications as well as free-standing units to make the most of your valuable floor space. And should they need maintenance or repair, we handle that as well.
Gas Stoves—Rustic Appeal Combined with Efficiency
It's all about the convenience, proficiency, and—let's face it—the charm of a gas stove. If you like a more rustic look, combined with the appeal of open flames, these units provide an ideal mixture.
Most of the stoves we offer use natural gas which is readily available and very affordable.
Our team of professionals can show you the various options in our WAH Comfort Store, and can help you select the right unit that fits your budget and lifestyle. Our friendly and skilled technicians will coordinate the installation of your new stove and can also provide expert assistance with regular maintenance and repairs.
Magic-Pak Units Offer Heating and Cooling Solutions for Apartments and Condos
This technology has an odd name, but it delivers solid heating and cooling performance, even in variable climates like Wisconsin. Single packaged vertical units (SPVU) are self-contained and feature slim designs, so they take up very little room, making them ideal for smaller apartments, condos, or senior living centers.
We offer Magic-Pak units because they provide the perfect combination of reliability and flexible design. Both residents and property owners will enjoy the benefits of these systems.
Rely on the Comfort Advisors and Team at West Allis Heating
There are so many factors to consider when choosing a heating solution—indoor units versus outdoor units, stand-alone stoves or consoles versus traditional forced-units like furnaces. Don't worry, our Comfort Advisors have got you covered. Our technicians receive continuous training from both manufacturers and our more experienced staff members, and many are NATE-certified.
We have also earned a lot of awards from Angie's List and the Better Business Bureau. At the same time, we know what really matters—you want professional, comprehensive service, repair, and installation, completed on time and on budget—and we do that every day.
Call us today at 414.543.2800 and talk to one of our friendly team members and you'll quickly learn why we earn so many awards and loyal customers.