Janet Clark
June 17, 2021.
Mario was friendly and polite. He found the problem quickly and replaced the part. Very pleasant experience.
james Wend
June 16, 2021.
Very professional. Got the work done and cleaned everything up. I was told that the air conditioner would be so quiet I would hardly know it was on. I was skeptical but it is the truth. I can't hear it when I am outside. This is a nice change from the old AC unit. The furnace is also quiet.
Andy and JoAnn Muellenbach
June 16, 2021.
Excellent! Job well done!
JessicaLynn Walkowiak
June 10, 2021.
I have nothing but great things to say about this company! I have been working with them for two years now and the receptionists are always so polite and helpful. The service techs are always very knowledgeable and professional. I would definitely recommend them!
Miss Teleph
May 20, 2021.
Terry, the technician, took great care to thoroughly check everything and to explain everything. He asked a few times if I had any questions, which I did, and which he was able to answer completely. Terry also made recommendations for ways to keep our air cleaner and healthier without being pushy at all - we really appreciated that as well. I asked if he had companies he could recommend, and he did (for duct cleaning). He also let us know that your company can install other things that we asked about. Finally, he gave us a business card and asked us to please reach out at any time with any questions we may have. Please do all you can to keep Terry as one of your technicians; we have had service plans for a few years with your company and no technician that has come to our home were as good as this man was. Thank you for having Terry be our service technician today and we hope he can be sent to us each time we have a technician from your company at our home.
Paul Tarantino
May 20, 2021.
I had a brand new AC installed in October 2020; since it was fall; they were able to install it, but not do a test. When warm weather rolled around, I turned on my new AC for the first time and heard some loud noises coming from the unit.... Within an hour of calling West Allis HVAC - They came out to evaluate. The noise didn't occur for the first tech and he left. Later on, the noise cam back. I called and within 24 hours of that call, another tech came out (Joe) who was incredibly friendly and ultimately heard the loud noise. After thorough diagnostics, he determined my Nest-E thermostat's wiring had to be adjusted. Eve n though it worked fine with my prior AC unit, the new AC unit didn't work as is with it. Their fast response, friendly and thorough diagnostics to my recent purchase is why I will always recommend West Allis Heating and Cooling. Aside from their customer service, the initial purchase was efficient (I dealt with Tyler). Thanks West Allis- Your good deeds didn't go unnoticed. We'll be in touch again.
Heating & Cooling Services
Heating and cooling services are the heart of what we do, and we are not afraid to get our hands dirty. We service all makes and models of furnaces (including oil), boilers (including oil), central air conditioning units, garage heaters, commercial rooftop units, electric heat, and more. You have peace of mind knowing we're available 24/7/365 to keep you comfortable.
Free Estimates
When it's time to replace or install a new home comfort system, West Allis Heating & Air Conditioning is your #1 choice. With their no-pressure approach, one of our experienced Comfort Advisors will come directly to your home and work with you to find the system that best fits your needs and your budget – completely FREE.
Maintenance Programs
Thousands of customers rely on our Comfort Maintenance Agreement (CMA) to ensure their heating & cooling systems are tuned, cleaned, and running efficiently year-round. Regular maintenance will help prolong the lifespan of your systems and save you money on energy bills and repair costs. CMA customers also receive special discounts and priority service.
Over Six Decades of Superior Service
West Allis Heating & Air Conditioning—Offering Uncommon HVAC Services and Old-Fashioned Values
Since 1959, West Allis Heating & Air Conditioning has combined old-fashioned values with the highest quality service, products, sales, and support—all at competitive prices.
We offer services that many HVAC contractors no longer do as they require extensive experience and training. For example, we create custom ductwork at our in-house metal shop which ensures proper unit sizing for consistent air flow. Our ductwork not only operates efficiently, it looks great so it doesn't need to be covered or hidden.
Our highly-skilled technicians install and provide maintenance for oil furnaces and boilers—a rare commodity these days. We can also provide oil to gas furnace conversions, which typically offer greater efficiency and less hassle.
West Allis Heating also repairs sleeve and window air conditioning units—no one does that anymore. We also sell new window units through our WAH Comfort Store.
Our Unique WAH Comfort Store
Since HVAC technology evolves so rapidly, we opened our WAH Comfort Store. This attractive showroom displays a range of heating and cooling systems including ductless split systems, zone systems, decorative space heaters, wood stoves, and specialty heaters. We also offer a variety of indoor air quality products such as purifiers, ventilators, and humidifiers/dehumidifiers.
Not sure what you need? One of our Comfort Advisors will be more than happy to help make the best selection to meet your style, needs, and budget. Come visit us weekdays from 7 am – 6 pm and Saturdays from 7:30 am – 4 pm.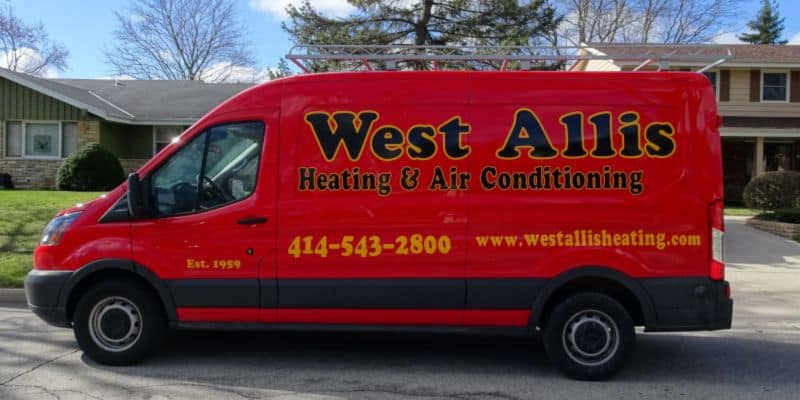 Request Service Today
Fill out the form below and a member our team will contact you as soon as possible. If you would like to call us, 414-543-2800 is the number. We look forward to working with you.
Latest News From Our Blog